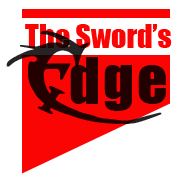 The Sword's Edge
Issue 2: 11-05-2013 - In Ferro Veritas
Greetings 9S members! Welcome to the second edition of the 9S Newsletter, The Sword's Edge. Our last newsletter was sent out way back in June last year – so we thought it was about time for a second edition to provide you all with updates, information and announcements. If you do not wish to receive this newsletter in the future, please ensure to update your forum user settings.
Division Overview
Our divisions work towards making sure we have lots of things going on within the cabal. This is not always via scheduled events, but our division members working to encourage team / group participation in things going on. There is always room for more of our members to join our divisions and help to take on responsibilities to ensure our cabal stays active and fun! Here is a brief overview of what is going on…


Hook Swords (Recruitment)
We would all like to extend our thanks to Firearc for her work as one of our leaders of Hook Swords. Unfortunately, the time has come for Firearc to step down from her leadership position. She will continue to be a member of our Hook Swords division, for which we are all very grateful! This does however mean we have an opening for a leadership position within the Hook Swords division to work alongside Corenna in running the recruitment division. Recruitment does continue to be very active – we consistently receive applications and queries from people who are interested in finding out more about the cabal. If you are interested in joining the Hook Swords division, please don't stay quiet about it! Let us know.


Zweihänder (PvE)
Our PvE division is one of our most filled divisions, and is led by Volen and Silmeria. The members of Zweihänder are incredibly active at continually trying to get you to team with them! They are also interested to hear from you if you would like help to organize teams to get through your elites, complete your achievements or just to enjoy each other's company. PvE is also looking for new members – especially those who would like to take an active part in not just learning content for themselves but who want to teach others mechanics and pass on their knowledge via ingame activities as well as our forums.


Misericorde (PvP)
PvP activity is on the increase in Nine Swords, there are regularly individuals as well as teams heading into one of the PvP areas. Esthyr – our fearless PvP leader has also been holding fight nights in the fight clubs within the hub cities. If you have a passion for PvP, why not help encourage others to join in too! Talk to Esthyr about joining the Misericorde division and help our cabal become a force to be reckoned with.


Rapier (RP)
Our Roleplayers have seen a peak of activity recently thanks to the efforts of Volen and Darquegryn – The Templar's Gambit is underway and the start has been a mass of activity. Lots of people have been contributing to stories in our forums, and we have seen more social events in game. This can only strengthen our roleplaying experience.


Dussack (Advancement and Discipline)
For the cabal, the work of A&D is often gone unnoticed unless you are directly affected by it. The leadership of Mooncide and Grael in partnership with Durendal and the other leaders within Nine Swords helps to make sure that any potential drama is extinguished before it starts burning the work that has gone into the cabal to make it the friendly welcoming place that it is. This division is not currently looking for new members.


Estoc (Public Relations)
Since we launched almost a year ago, Estoc has helped us get Nine Swords advertised on Radio Free Gaia and Gridstream. Estoc has also been keeping you updated across our communications media as well as supporting our divisions in organizing events etc. Jennet and Katelin are leading this division, please get in touch with them if you have any ideas about promoting Nine Swords.


Pen (Research)
The Pen division needs you! Our research division was established with some really great ideas, and the 9S Bestiary was born – unfortunately, at the moment it appears only Katelin and Durendal are contributing to the Bestiary. If you are interested in working on this really cool database for the cabal and entering tactics to defeat the monsters, shout up about it and request to join the Pen division by getting in touch with Durendal. The research for this division can also encompass other game play area guides in coordination with the relevant divisions.


Arming Sword (Mission Control)
The Arming Sword division needs you! Mission Control was set up with the idea of supporting all other divisions by highlighting one off tasks and setting missions for the cabal to get involved and help complete the tasks. Unfortunately it has not had the attention it could have been given. If you are interested in joining this division, get in touch with Durendal.
Upcoming …
Activity Check
Starting the 1st of June, Nine Swords will be running an activity check. We will have a thread in the 9S Internal forum area with a list of all 9S members pulled from the TSW Chronicle with a date and timestamp of XP data per member, we will then pull the information again 4 weeks later. If you are logging in and killing things - you will likely have to do nothing at all. If you know you log in and never kill anything, let us know in the thread that we will create in the forums!! We do not want to remove anyone because you are a socialite and not a killer. Any members of 9S who have not gained at least one (1) XP between this data and the next data will be sent a PM (in the 9S forums) to confirm whether they still wish to be in 9S. Any members who do not respond to this PM check within the set period (likely 2 to 3 weeks) will be removed from the cabal - though very welcome to join again at a later date. (Please also note that anyone who makes a vacation notification thread as of the start of the check and up to the date of the end of the activity check expressing that they are coming back but just on vacation will not be removed).