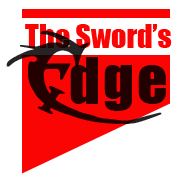 The Sword's Edge
Issue 31: 9th November 2018 - Forged in fire, tempered through wisdom, sharpened by resolve. 
Thank you for stopping by to read the latest updates in Nine Swords!
October exceeded our fun expectations! Lots of people logging in all day long to make sure that they got as much loot from Jack as possible, coupled with running the Samhain missions, collecting lore and of course our fantastic Monster Mash Masquerade social event! All of this on top of our regular scheduled events and ad-hoc things going on, meant there was little time for being bored. 
Our leadership team is incredibly thankful to see so many members getting involved in the projects being worked on in the cabal at the moment - some of which have their own sections here in the newsletter. Even though the progress is steady and positive, some of them could use more joint discussion, ideas or even your help if you are interested in getting involved. Pretty sure the too many cooks thing cannot be true in discussing ideas for our cabal!!
If all that wasn't enough, we have seen new energy being pumped into our Research division. Lots of PvE activity. Really great recruitment efforts. And we welcomed a new leader into the leadership division, congratulations again Saunabath!
I am sure I am not alone in hoping that all the activity and enthusiasm continues! I am looking forwards to seeing lots of you logging in to check out the new content being released next week.
~ Katelin
Nine Swords Halloween Event 2018
The Monster Mash Masquerade was SO MUCH FUN!!  People had fun getting dressed up, dancing to the spooky songs Drina played and answering the trivia questions and anagram competition that we ran. Lots and lots of prizes were given away - 
Congratulations to Shahra for winning our Monster Mash Masquerade anagram competition - the answer was All Hallow's Eve. The prizes for winning were: Synthetic Pseudanthium, Oni Soldier Skin - Outfit, Grim Glamour: Servant of Seven Deaths & Black Widow Pet! 
Congratulations also to everyone that provided the first correct answers in the trivia competitions! Prizes were given out to Jatz101, Mayday, BrigidCollins, Fatima, Vomher & Thules.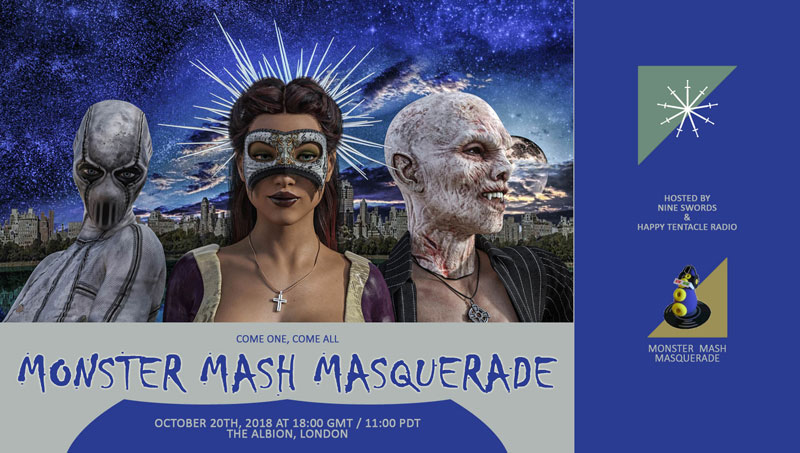 As icing on top of the cake, this last week @HikariKenzaki released the Monster Mash Masquerade 2018 Photo Book!! It is incredibly awesome - and you can check it out here: pub.lucidpress.com/MMM2018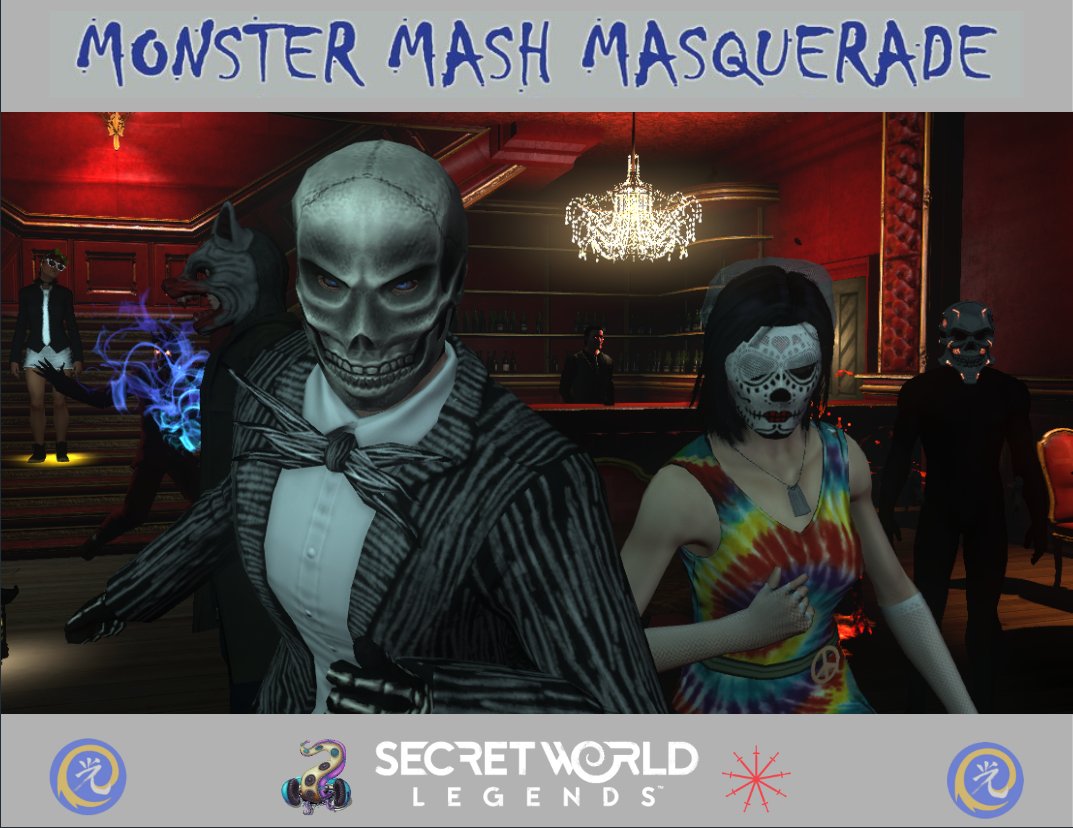 SWL Samhain 2018
From October 11th through until November 1st Nine Swords members were incredibly active taking part in the events being held in game, competitions run by Funcom and throughout the community and of course with our cabal competitions!
Our cabal competitions included an outfit competition and a spooky theatrics competition. 
9S Halloween Costume Competition!
We asked our members to submit screenshots of their best Halloween Costume. The entries were then voted on and prizes awarded. Congratulations to Alexiere for coming in first place and winning the Arachnoid Cycle (donated by Katelin), congratulations to Mayday at coming in second place and becoming the proud owner of Inferno's Regalia - Outfit (Thank you Hollo for donating) and finally to DigitalWraith for coming in at 3rd place and receiving the unused, no stains included Morph Suit in Red!

9S Spooky Theatre Scene Competition!
Indashi ran this competition and asked our members to make the most spooky Halloween themed theatre scene! He offered up some fantastic prizes - yet only 3 members entered, therefore - all three entrants got a prize HURRAH! 
Congratulations to the entrants for getting their hands on either:
Marin Espina(Level 25: 3.5% Chaos Damage Level 50: 980 Health)
Anansi Probability Adjusters of Efficiency 3
10 Yellow Kaidan Keys + Synthetic Pseudanthium(Pet)

Member participation and rewards / awards
In last months issue, Shjakilil wrote a great article for us about member participation in the cabal. As this was actually already a topic we had been discussing - quite a lot of thinking, ideas brainstorming and efforts have continued throughout October.
As Shjak commented -  
The steps or goals for our members can be structured.
The steps or goals should be small enough that they can be achieved.
Each step of that success will breed success.
Builds / we can be tested and awarded for accomplishments. 
The thinking and discussion that followed this encompassed us looking at ways where we can adapt what we have and take it forwards to achieve a structured, goal based achievement system in the cabal.  
What we have already is a really great structure for our Academy, over the last year ideas for workshops have been drafted and left to gather dust. Shaking the dust off, and developing them further was a no-brainer. This development happened directly following the condensed Sharpening the Blades sessions we held in the first week of October. Quite a few topics were discussed that on the whole touched on how we can improve the "integration process" for our new members so they really feel part of things. Lots of things in Nine Swords have developed over the many years since we founded.. but that doesn't mean a new person joining us will think it all makes sense! 
To ensure we address the "small steps and goals" Shjak outlined in his article - we discussed that we wanted to have a way to document our members' successes. Which led us quickly to the medals and awards that we had with our previous website but didn't continue with when we moved to Secret World Legends and this new website.  After some hair pulling out - a successful integration of a new module for our website was carried out in a test version of the site. 
So.. now we have an idea, a plan for the structure, a way for it to work -- but we need some more discussions together. What do we all want to define as goals within the cabal for our members? What can really help us with this idea to bolster what we are already doing in the cabal?
If you have ideas, it is not too late to get involved in the discussion - you will find the thread here in our Tasks forum area. 
 Strange things are happening… 
If you have not been playing recently.. or you close your eyes when logging in - then you may potentially have missed the announcements and teasers for the new content being released next week! 
Launching November 14th 2018 : DARK AGARTHA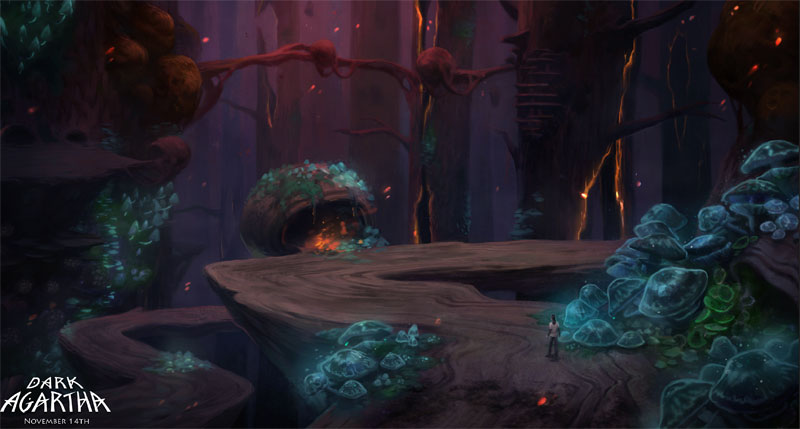 Chosen-Wan created a great overview of all the teasers we received - so if you want to be informed, go check it out!
9S Cabal Bank: Updates
At the start of the month, a change was implemented to our Cabal Bank use. Namely, that Recruiters (Rank 3 cabal members) are able to access the items in our cabal bank to respond to your item requests. We hope that this change will ensure that there is more availability of people who can trade items to you that you request - and that in turn, we have a quicker turn over of great items in our bank.
All changes have been documented in our Cabal Bank directive, and our recruiters have been informed via this post here.
As a member of Nine Swords, if you want to request items from our cabal bank - head over to our requests forum area.
… and FINALLY!
We present to all members of Nine Swords a Challenge for November! Starting today and through to the 1st of December - all members who fulfil the following will be put into a prize draw to win a new pet!! At the point of publishing, our leadership team have offered 2 pets - a Sanguine Ghoul and a Mini Mecha.
We want you to:
Log in between today (the 9th of November) and the 1st December 2018, and
Have an image of your character or an image that represents you best (that complies with our website directives ;) ) as your avatar on your Roster Page.
Sounds simple huh?! Just do both of those things, and your name will be allocated a number from 1 to however many members manage to do this. We will then use the Google random number generator to find our winners. Winners will be announced in the next issue of our Newsletter in December.
If you have no idea how the interface works to work on your roster profile page, check out our directive Your 9S Website Profile.
Your next issue of The Sword's Edge …
Our next issue will be published on the 9th of December 2018! See you then for the final newsletter of this year.