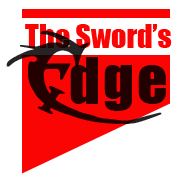 The Sword's Edge
Issue 32: 9th December 2018 - Forged in fire, tempered through wisdom, sharpened by resolve.
The year is racing to its end, and we still have so much to do! The winter event for Secret World Legends will launch on the 12th December, and brings with it the return of Krampusnacht as well as the Winter Cache.
For this months Newsletter, we decided to have a slightly different format - and have a look back on this year. It has certainly been packed full of fun together, overflowing at the seams with ideas and I know I am likely not alone in having hopes and dreams for our 2019 together.
Enjoy reflecting on our past year, take time out if you can for yourself and spend time with your family and loved ones. 
Season's Greetings,
Katelin and The Sword's Edge team
Nine Swords in 2018
January
We welcomed in the New Year in style with Yuriksha hosting our annual New Years Museum Reception. It was a great event and we enjoyed the turning of the year together and thinking about our 9S New Year's resolutions, which we all agreed was a perfect opportunity to consider and develop new goals and ideas for our cabal. Hoping that this event also happens to mark the end of 2018 so we can again share our hopes and dreams for the new year. 
Fun fact for January - Phanth will be "celebrating" his first year as leader of our PvE division, he was promoted alongside Shin in January 2018. 
February
May feel like a completely crazy concept - but end of January, and start of February 2018 was when we were actually attempting the New York Raid E5 for REAL! When we now look at how we perform the New York Raid at this level and just steamroller through it - it is incredible to see how much we have grown together as a cabal, and how newer members benefit from the blood, sweat and tears we shed together. 

March
Our weekly world bosses that we saw each Sunday evening through until last month kicked off in March 2018. As a cabal we wondered why more people weren't running scheduled runs like this - as we saw it as a fantastic opportunity for recruiting new members. If people see us doing things, they may think we are a good cabal to join.

Since March, lots more cabals have started doing World Boss runs - and we have stopped scheduling them and run them ad-hoc when we feel like doing it. The time is now instead used for Regional runs, of which we also have far too many in our bank!!
April
The biggest event in April, was Cabal Pride 5! Our 5th ever TSW/SWL recruitment event. Cabal Pride has to be one of our biggest highlights of the year, and we are always so proud to see so many of our community coming along and getting involved in the event.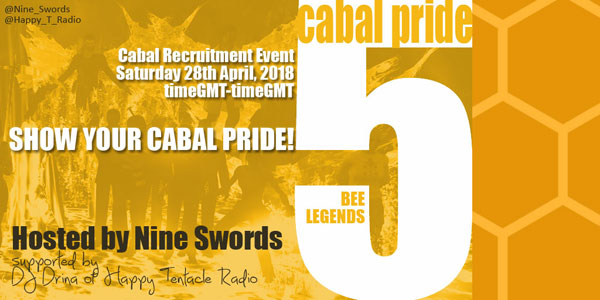 May
In May of 2018, our Bestiary had a major overhaul again to fit better with the structure we have in our Achievements panel and to catch up with the new beast types that came with New Dawn. The Nine Swords Bestiary remains a closed resource - but who knows what the future holds!

June
Nine Swords celebrated our 6th Anniversary in June 2018. We decided to mark our own cabal Anniversary with competitions in our forums instead of lots of events in game - with The Ministry of Silly Outfits, Tagline competition, and a SWL in our real world writing contest.
With our own cabal events, alongside celebrating SWL's own anniversary and getting very involved in the community run MEGAVERSARY events - June flew past! 

July
MEGAVERSARY continued on into July, after which - we had a rather full month of PvE activities. In July, many members of Nine Swords attended Rock out for MadLyric and saw Agartha filled with many purple cats in her memory.

August
Phanth ran "Are you 9S Tank Enough" during August 2018. It culminated in an awards ceremony where the winners were awarded their prizes. Was certainly great that this event trained so many of our members in a new role of tanking!! 
September
I think September was our busiest PvE month of the whole entire year. With just 1 day of no scheduled PvE events! 
October
and then we hit October, the most awsome time of the year in our Secret World. Yuriksha ran a fantastic Jackapalooza 2 in the form of the Monster Mash Masquerade - and we had lots of fun together as a cabal with the Samhain events. 

November
In November, we launched our new 9S Member Awards - further to discussions over this last year, we were excited to finally have a new tool for our leadership team to use to acknowledge peoples involvement and achievements. We are definitely looking forward to how we can use this tool further to reward our members based on their input to our cabal.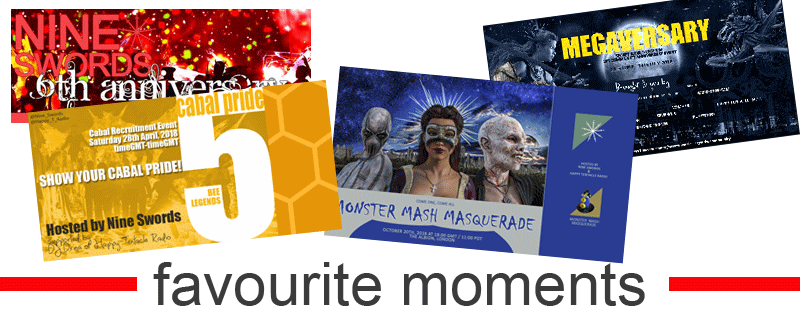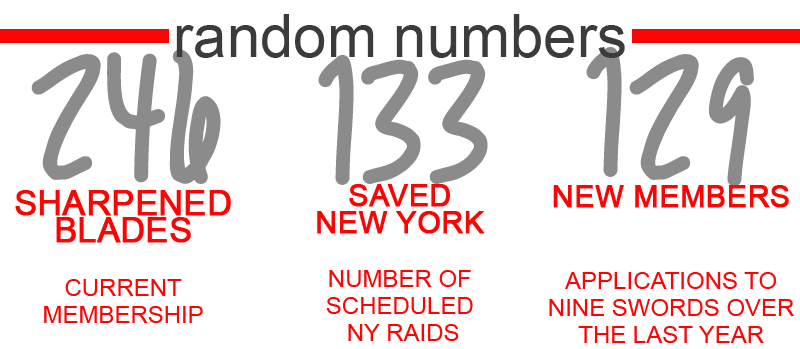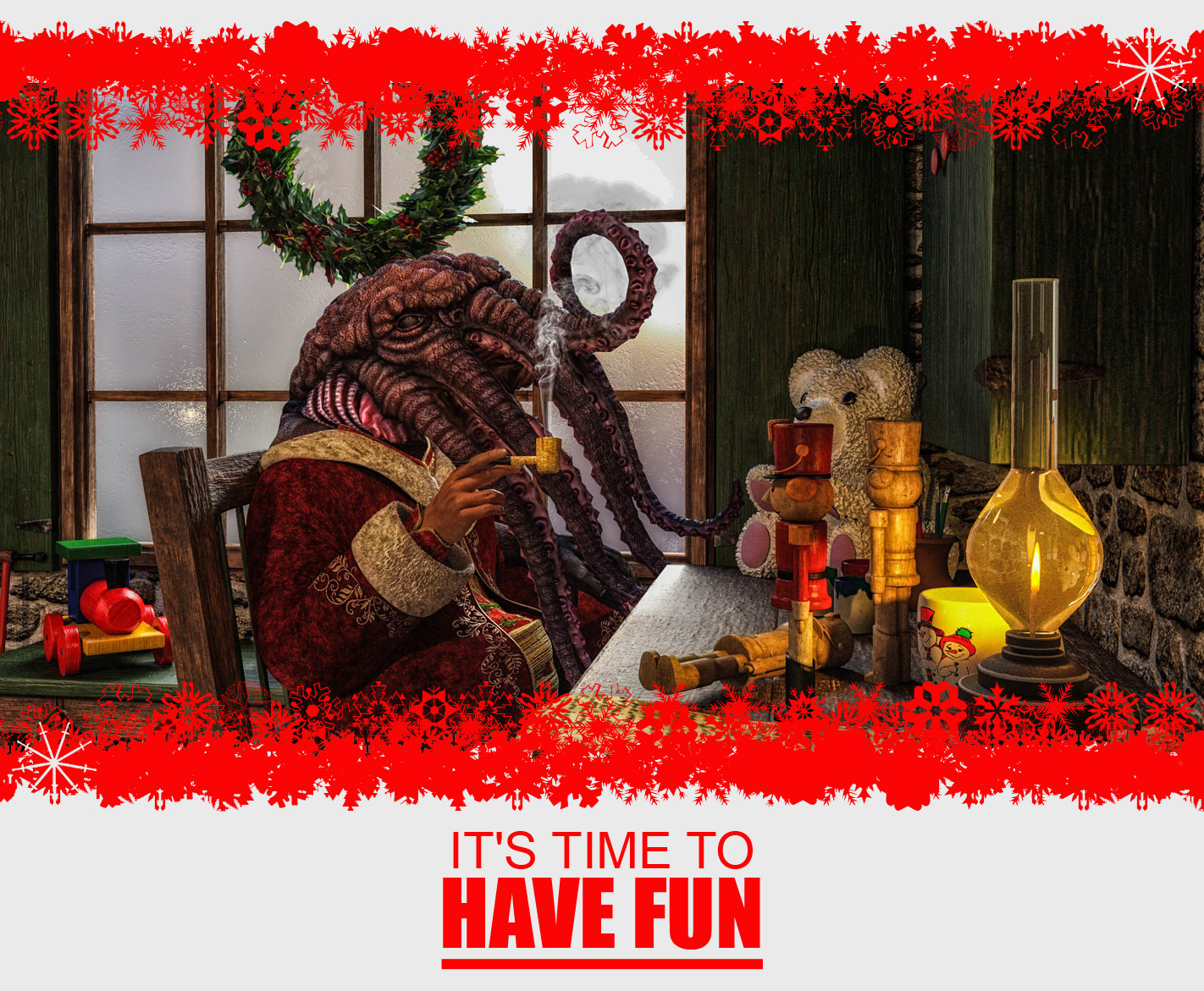 Swords - your challenge for December if you choose to accept it...
On the 9th day of Christmas, my true love sent to me - 9 ladies dancing. As we are Nine Swords, and not all ladies - I want you to send me something slightly different... therefore, on the 9th day of Christmas our cabal members shall send to me - 9 Cabal Members Dancing!!
Take a screenshot of you and 8 other members in our cabal dancing in game, or ramp it up - and make a video of you dancing together in game. Then add your entry to the forum thread here: LINK
Please make sure to list all the members who have participated in your entry! The entries will be voted on in the second week of January after the winter content comes to its end. The winning entrant and the other 8 members of Nine Swords that appeared in the winning entry will get their hands on some seasonal shinies!!  Each cabal member can submit 1 entry, however cabal members may appear in as many entries as they are invited to join in on. 
Have fun! 
Image created by HolloPoint (so awsome!!)
Interview with Durendal
This month we caught up with Durendal to ask him about how he feels this year has gone, and his hopes for next year in Nine Swords - 
As overall leader of Nine Swords, most people should likely know who you are - for anyone new reading this though, would you mind giving us a quick "Who you are and where you come from" overview?
I'm Durendal, the sword of Charlemagne. You may also call me Uragon, which is now my character's first name and used to be my handle in Anarchy Online. I came from a big variety of games, both on and off line, and got dragged into The Secret World by nobody else but my lovely wife Katelin.
Why do you still feel driven to lead Nine Swords?
Given how much TSW/SWL and Nine Swords in general has interacted with my life and how it has turned into a close part of the family, it's unconceivable for me to even consider not being involved in all the great work the leadership team is doing together to run the cabal. Without Nine Swords, I totally wouldn't know what to do with all the spare time!
Can you see any changes ahead for our leadership team in Nine Swords?
Change: It's the one constant in life, and one of those things that always need to happen if we all want an active, involved community that's there for us to have fun with. If there is one constant in the cabal, it's that we've always got leadership opportunities and could do with more people to share both the burden and fun parts of organizing the cabal.
How about changes in the cabal?
I could see us beating E10 NYR pretty soon. Will that make us an endgame cabal? I'm not sure. But we're ever changing, always focused around what we want to do together. What we'll always aim to stay though is a great place to have a fun evening after a busy day.
Tell us about your favourite moment in Nine Swords this last year!
That's always tricky, but given from my screenshots of the last year, it would have to be the Megaversary. I had a great screenshot of a Dr. Klein-shaped Odonoptera joining us in killing world bosses.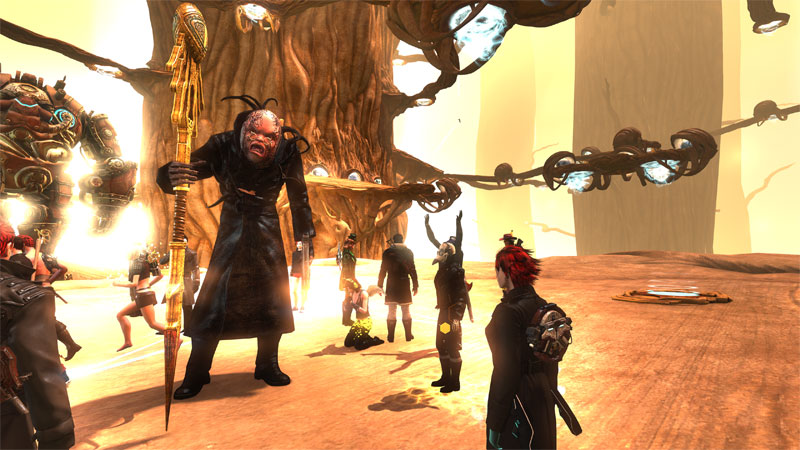 Where do you see Nine Swords in another year from now?
Exactly where we are today. It's what we keep telling people that take an extended break. Have fun doing what you're doing, we'll be around if you feel like coming back.
Your next issue of The Sword's Edge
We will be taking a break in January, and bringing the first issue of 2019 in February. Therefore, we will use this opportunity now to wish you all a fantastic end to this year, and a happy and healthy start to the new one!