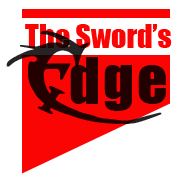 The Sword's Edge
Issue 33: 9th February 2019 - Forged in fire, tempered through wisdom, sharpened by resolve.
A new year, and already lots going on - I am sure I am not the only one in our cabal who gets home from work and just looks forward to logging in and enjoying the company of our cabal mates, teaming together and ending up in the well.
This last week I read an article on the BBC website about a gamer, and how the community that he was part of came together at his passing. It is rather special in an online community, how we can have so much fun together and learn to depend on each other, second guess each others movements during a battle, appreciate someone saying hello and having no conception on whether you had a good or bad day. We all make a decision when we log in as to how we want to be perceived, how we want to be, whether we will make compromises or cause drama. I am very thankful that so many people around us in Nine Swords and in our SWL community choose to be so welcoming, friendly and respectful.  The sense of community and belonging that you can read about in the article linked above is not a one off - it is definitely something we share too.
January has been a lot of fun, and heading into February we are all chipping away at the new Occult Defence accomplishments in the achievement panel. If you want to get involved in anything going on in the cabal - the best advice I can give is to log in, and keep checking our Noticeboard forum area for scheduled events. 
Also.. make sure you don't miss our Valentines themed competition this month! Launching on the 9th of February in our Noticeboard forum, take the time to leave your responses to have your name put into our prize draw to win some sexy Heart Pyjamas and a Pet!
See you ingame, ~ Katelin
January was competition time!
During January, there were 2 awesome competitions running within the cabal. 
Phanth led the "Test Your IP Against Ip Man's IP" Competition
The concept of this competition was that the cabal member that raised the most IP between 12-31 Jan 2019 wins. Phanth didn't just reward the top IP gainer though - lots and lots of prizes were handed out!! 
Dirtybliss led the Catch me if you can event!            
In this event, a random NPC from a place everyone is familiar was chosen at random, with that a series of questions asked over the course of the 28th of Jan to the 1st of Feb.
For a summary of the events and to find out who won, check out this video from Dirtybliss:
Don't miss out on your Valentines Cosmetics
Patched in alongside the new Occult Defence Team mode this week, was the Bag of Saint Valentinus. You can claim it in your Delivered Items panel via the menu in the top left corner of your GUI, or by clicking the box icon that is likely to have appeared when you logged in at the bottom right of your screen.
If you want even more after you have used that one, you can also head up into the big tree in Agartha and look at what the Tree Tender has on offer. They are also selling the Bag of Saint Valentinus (for 300 Third Age Fragments) along with some other cool things!
On clicking the bag, you will be awarded the title "Cupid's Accomplice". Assuming you are level 10, you can also open the bag to get your hands on the following potential items:
Cupid's Signal
Balloon Bouquet
Purified Weapon & Talisman Distillate
Little Succubus Pet
Love Bird Pet
Eldritch Valentine Pet
Valentines Bear (White, Pink or Brown)
Heart Pyjamas (Black or White)
I love you logo T-Shirt
Eye Heart U logo T-Shirt
Heart Framed Glasses
Heart Shaped Watch
Heart Pendant (Silver or Gold)
Opening the bag within a group of people, ensures up to 10 people will also gain love filled cosmetic items from you! Collect all 6 Valentines cards, fill your inventory with stuff you didn't realise you needed and ensure you get your hands on the sexy heart-print onesie!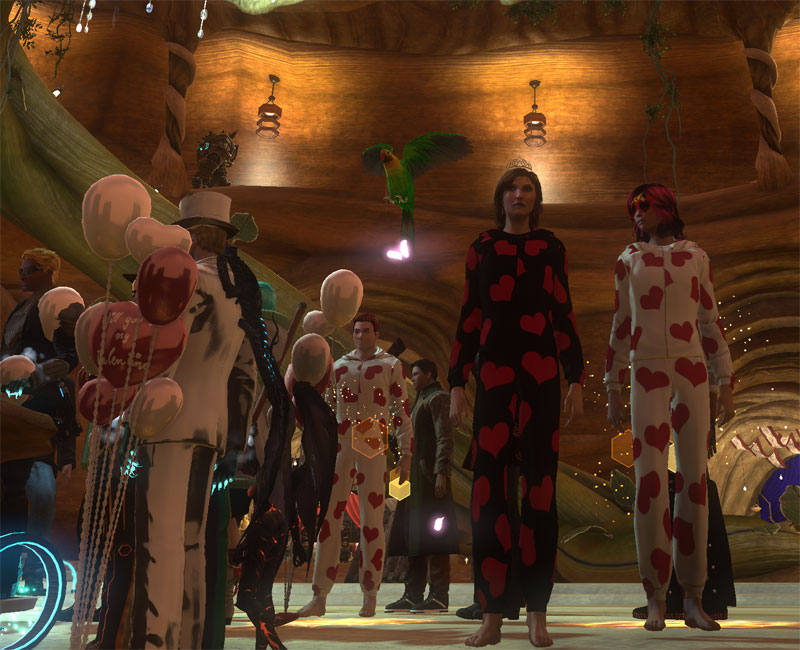 (Special thanks to Kynado for unsuspectingly appearing alongside me in this screenshot!)
Have we seen you yet this year? 
The chances that anyone not playing right now is also taking the time to read our newsletter is likely small - but a topic that we have been discussing amongst our leadership team this month is activity. We often see the same people signing up for events, taking part in ad-hoc runs and saying hello when they log in. If you are not one of these people, how can we encourage you to join in more?!
We are incredibly thankful to all our members - each single member of Nine Swords helps to make our cabal as special as it is, therefore we are also always looking to incorporate new ideas, events and things to do to help you want to log in! So we want your ideas. 
Can we be more vocal about what is going on in the cabal so you feel like you want to log in and join in? Do you think we should be running more of a specific event or activity because it is currently lacking in Nine Swords? Would you like to get more involved in a certain area of the cabal because you are passionate about it but just do not know how? 
Only you can tell us! 
We are approaching planning phases again for Cabal Pride and Megaversary, Raiding within the cabal is happening more than should be possible with just 7 days in a week including of course the weekly scheduled NY Raid E10 run, and Cabal bank is full of items you should all be requesting to help you gear up. Our range PvE and Social events happening should hopefully appeal to many members of varying levels, skill base and interests in the cabal!
Looking forward to seeing you all in game.


9S New Year's Reception 2019
This years New Year's Reception for the cabal was held on the 12th January 2019. The Reception and Tour has been held for a few years now, and Yuriksha organised another memorable evening for us. This year we saw a change of venue as Mayday graciously offered to host the event in her museum. It certainly was great to see an almost museum (when will the tank blade be available?!) and attendance in our monster hunting runs has increased this year, likely due to cabal members also wanting to have a museum exhibition as awesome as Mayday does!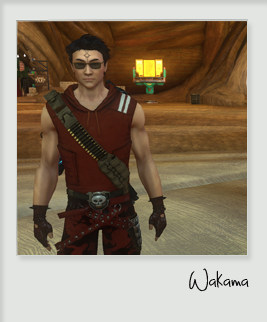 What's in a Name?
This month, new member Wakama shared why he has the name he does.
A long time ago, when I was 9 or 10 years old, my Parents finally got me an internet connection with a whopping download speed of 100kb/s. The first thing I did was download my very first MMO. It was a game that my friend was always talking about, "Legend of Mir 3". At the time I was watching the anime that was called Captain Tsubasa in which my favourite character was Wakabayashi, so I wanted to make it my name in the game, but... as a child i had no idea how to pronounce it or even write it down. I was always thinking its Wakama-something so i just typed Wakama and here I am now, more than 17 years later still using the same nickname in almost every game I play. 
Your next issue of The Sword's Edge... 
The next issue of our newsletter will be released on the 9th March 2019. In the meantime, Swords - don't forget to enter our "How SWL loved up are you?" Prize Draw!