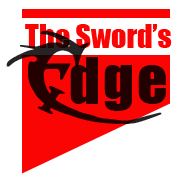 The Sword's Edge
Issue 38: 9th October 2019 - Forged in fire, tempered through wisdom, sharpened by resolve.
Well we seem to be headed towards Autumn in Sprint VI  - very understandable as Halloween is incoming, but to say things are busy in Nine Swords right now would be an understatement. It has been our pleasure as a leadership team to see so many of our new members getting very involved in promoting the cabal and seeing so much recruitment activity over the past few weeks - don't stop now!
With such an amazing influx of new people, we worked together as a leadership team to put together a two week event for Nine Swords from the 1st October and 15th October. This is already well underway at the writing of this issue and you can read what has been going on and what is incoming a bit further down this page.
We are in for TREATS this Halloween with the Witches and Warlocks Masquerade on the 26th October. Join Nine Swords for dancing and competitions!
As always, we have also managed to fill this newsletter with loads of other stuff too. Including amazing Halloween themed artwork from the newest member to our Sword's Edge Team, DigitalWraith! So - cuppa, chocolate digestives.. and feet up! We hope you enjoy this issue of the Nine Swords Newsletter!
 ~ Katelin
Honing the Blades
We are already a week into our Honing the Blades event and so far we have had great attendance, fantastic discussion and lots of tips being shared.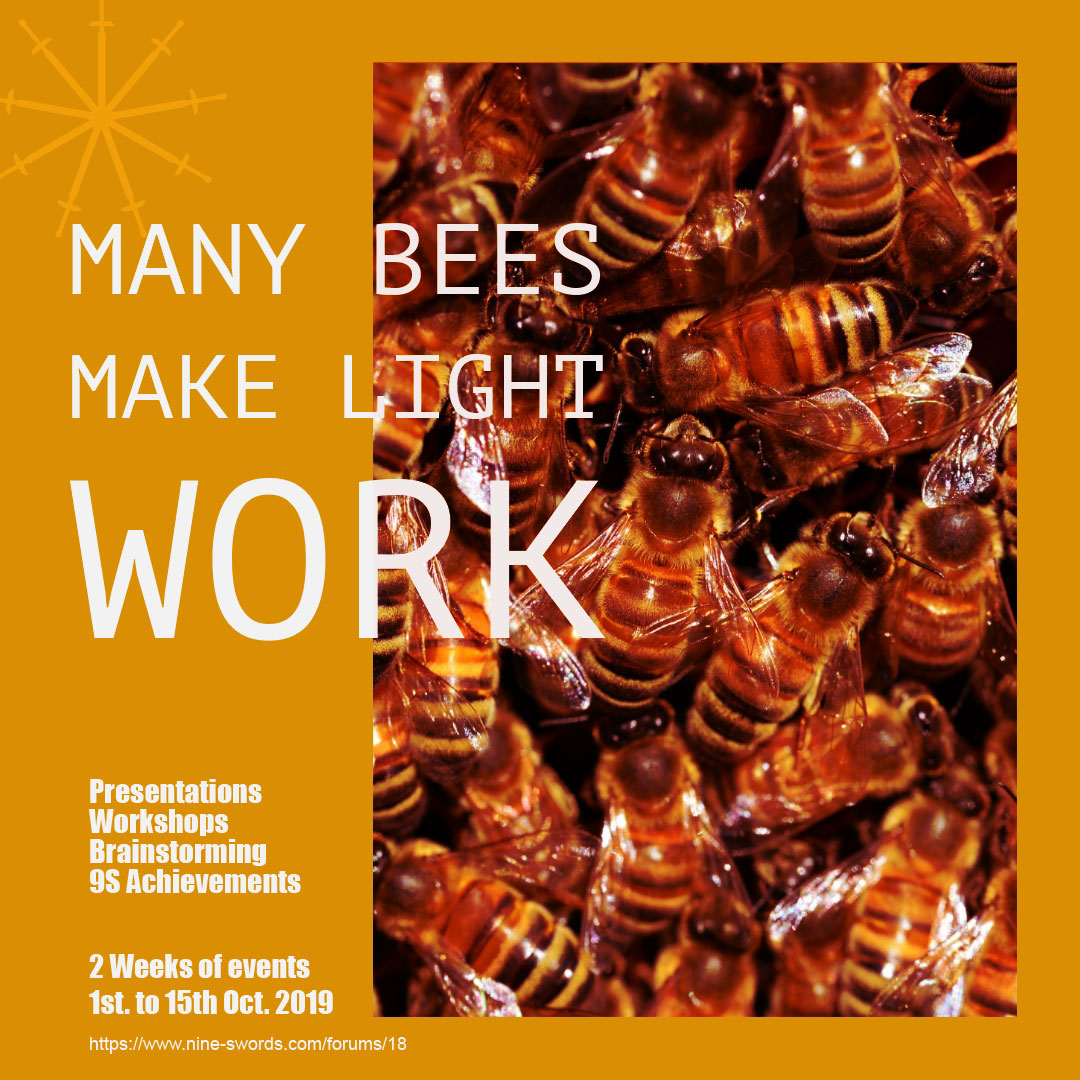 It is incredible how much knowledge, experience and stories our members have to share - and that those who have attended have been willing to do so, so openly has really enhanced the event and what we have achieved together.
Honing the Blades 2019 runs until the 15th October. Make sure you attend some sessions so you can get your hands on one of our shiny new 9S medals.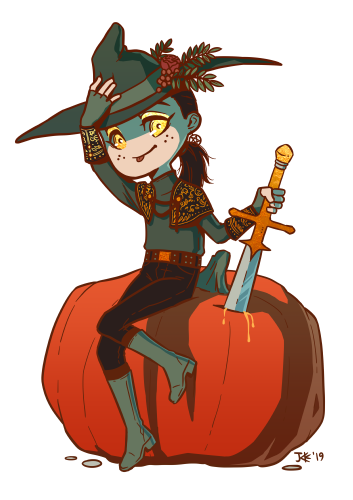 Halloween incoming… So it is COMPETITION TIME!
Swords, we know you all love taking screenshots! And there is always a lot of appreciation in our forums when people post them. So, get your screenshot taking fingers ready! We want to see your best Halloween screenshots!!
Enter your screenshot via the thread in our forums and The Sword's Edge team will pick a 1st, 2nd and 3rd prize winner (to be announced in our November edition on the 9th November 2019).
For rules, prizes and more information, check out this LINK.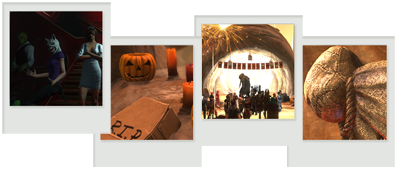 Our Monster Mash Masquerade last year was a LOT of fun - so this year, continuing on with the Masquerade theme -
Nine Swords are proud to present: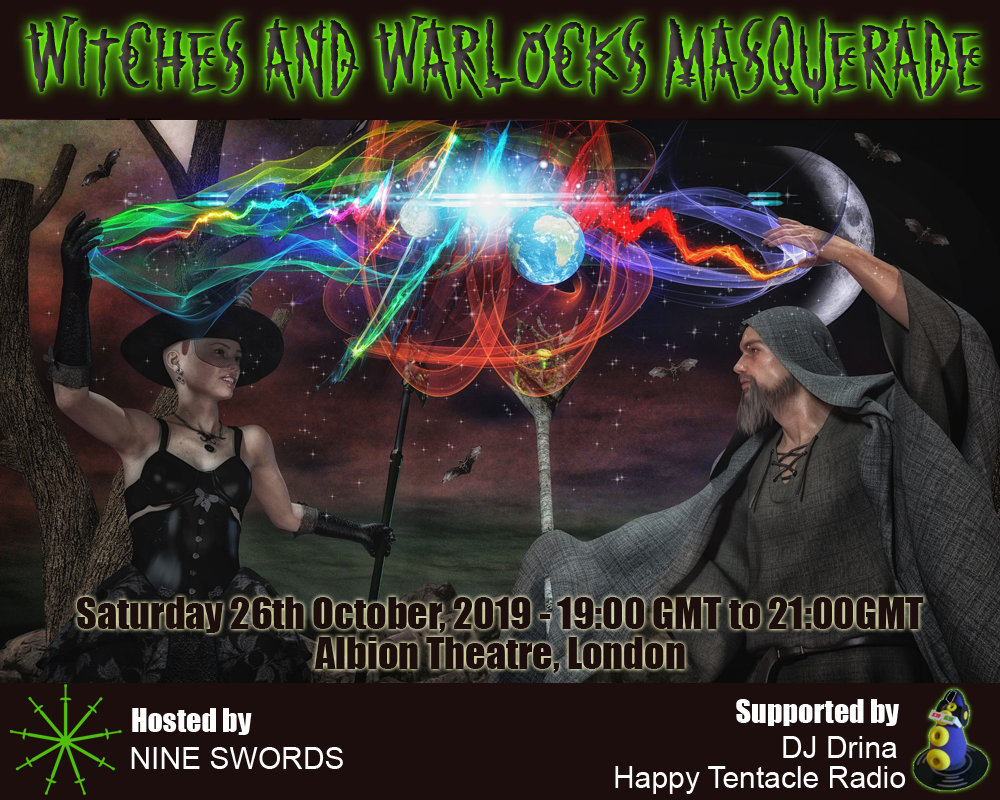 And we are not going in alone! We are excited to again have the support from Happy Tentacle Radio - and specifically DJ Drina! 
Together we will be getting spooky on the dancefloor and handing out as prizes as we can get our hands on by then.
If any Swords want to get involved, please get in touch with Yuriksha. 
See you there! 
Special thanks to HolloPoint for the amazing artwork for this years posters! 
Signing up for Cabal Events
As our cabal got lots busier this last couple of months, we cannot stress enough how important it is for you to sign up to events that are scheduled if you want to attend! Logging in on the off-chance you may get a spot can still work out... but avoid disappointment by using our Noticeboard forum! 
Our Noticeboard forum area is very well moderated and ONLY contains up-coming events for you to sign up to. This includes all game play areas, as well as competitions and social events we are running. Most of the sign up threads will contain information about any requirements you need to meet to join, as well as any key roles that need filling to enable something to go ahead as planned.
You can find our Noticeboard forum here via this link. 
If you want to see other events being run, or even just at a different time. You are very welcome to use our Event Requests forum area. 
November Events
We don't want you to get bored *haha* - so block your calendars, two BIG events incoming in November!
November 11th to 25th - 9S Achievement Extravaganza 
Two weeks worth of scheduled events going on to help our members work towards achievements they are still missing! 
November 28th to December 1st - 9SGiving
A long weekend worth of events over Thanksgiving for Nine Swords to give thanks to our community, and lend it a hand.
Details incoming for both events via our website, next months Newsletter and all the other usual places! 
Cabal Bank
With so many new members joining the cabal this last month - we have been inundated with questions about how to donate things to the cabal, and how to get your hands on things that we have in the cabal bank. So - here is a quick run down to help you!
Cabal Bank can be accessed via the Bartleby Banking Liaisons, for example - here in Agartha: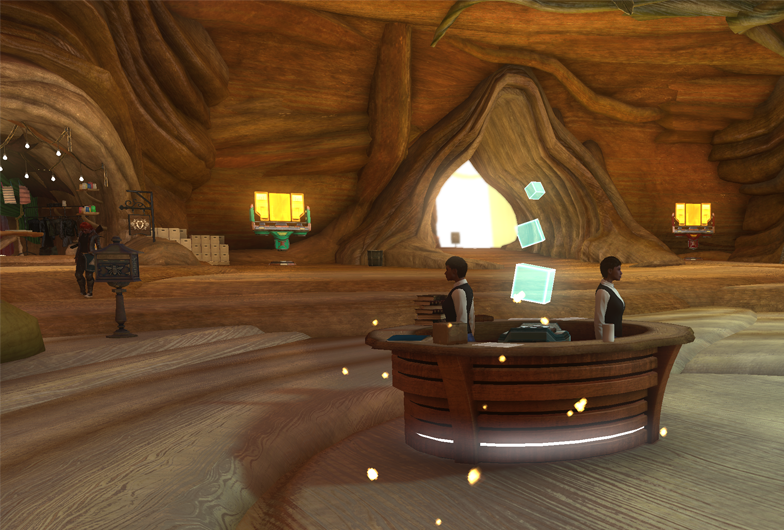 When you use "F" on the Liaison, it will open a panel with your bank items in one tab, and cabal bank in the other tab.
To help us to see what is being taken out of our cabal bank, we have set up a forum area where you can make requests. You can make a post here: Bank Requests Forum Area
Anyone rank 3 or higher can approve and trade you your request (trading dependant on that person having Patron status).
If you are interested in donating items to our cabal bank, then please consider whether it will *really* be useful to anyone else first. Cabal Bank space is limited to just 84 slots. You can see a list of things that are generally accepted, and those which are absolutely definitely not going to make our bank tidier-uppers happy here: Cabal Bank
Please note that stackable items, such as Essences will not stack if you try to add yours straight into the stack in the bank. Please just put into a spare slot and one of our bank tidier-uppers will see to it.
Free to Play players do not have access to the cabal bank. However, that does not mean you cannot request things. Please do so via our forum. If as a free to play player you also would like to donate anything to our cabal bank, please just ask in cabal chat for someone to help you!
Your next issue of The Sword's Edge...
Your next issue of The Sword's Edge will be released on the 9th of November - see you then!!