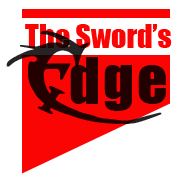 The Sword's Edge
Issue 47: 9th July 2020 - Forged in fire, tempered through wisdom, sharpened by resolve.
It would be wrong of me to use this issue of our cabal newsletter to do anything but give my own personal thanks - so without shame, and with the volume turned up - that is exactly what I am doing to do. 
We have had an incredible few weeks of fun, and it would be amiss to dedicate my first thanks to anyone but HolloPoint. Hollo, I am sincerely full of gratitude to you for the unbelivable amount of work you put into MEGAversary. You were uncompromising in the levels of awesomeness you wanted to reach, and did reach - it was an undeniably amazing event that you orchestrated.   After last year, wow.. you definitely reignited the passion in our community to do things together.  This passion, the drive that is shared within the community. We saw the same cabals, groups and individuals getting involved in the madness you help push us to achieve!  We created a formidable team who were all working towards the ultimate goal of showing everyone that we are still here, still having fun and enjoying spending time together. 
Undoubtedly, prizes helped it a little bit. I like winning things too!
I am so thankful to each person, inside and outside Nine Swords that offered help with things during MEGAversary. Whether it was running an event, donating prizes, stepping in at the last moment to ensure a summoning team had 5 people in it, sharing information in Event or retweeting scheduled event information. Each interaction you did positively impacted MEGAversary and made it exceptional. 
What was also special for this event, was the level of acknowledgement. Our community does say thank you, often - but this time, it was a bit different. It wasn't just people saying thank you in LFG - but really lovely conversations with people who wanted to say thank you and share their appreciation for the hard work the team carried out. I valued hearing how grateful people were about MEGAversary. Thank you.
Finally, thank you to everyone that showed up, got involved and joined in. I honestly hope you had a lot of fun.
I am incredibly proud that we reached our 8th Cabal Anniversary at the end of June - it does not feel like just over 8 years ago that our founding members group was spending far too much time deliberating over our vision for Nine Swords. If you are new to the cabal and are interested in how we got to where we are today, please do take the time to look at our Origins Story! 
I hope you can all raise a glass with me, filled with your beverage of choice, to toast an amazing community. 
Much love and thanks to you all,
~ Katelin 
9S Anniversary 
On the 29th June we celebrated our 8th Anniversary as a cabal.
Thank you to all of you that took time to come along to our special Cabal Meeting. It was great to see you there!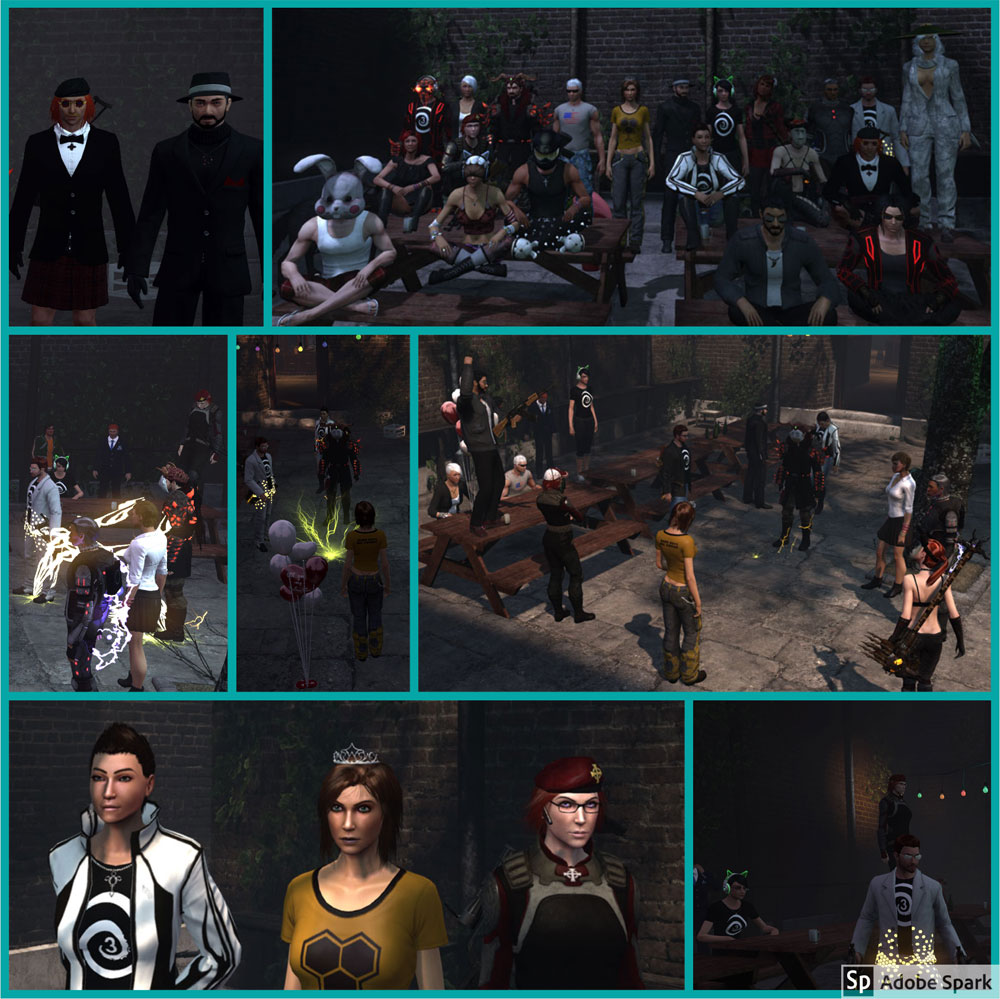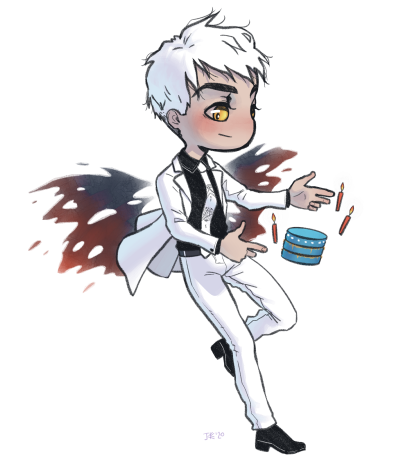 Anniversary Competitions
I love a good competition.. apparently, not so many people in our cabal do. But hey, less people that enter and up go the odds for those that do. 
For our Pet screenshot competition, we asked you to submit a picture of you with your pet. You had two options for this competition: The first was that you could have taken a screenshot in game of you and your pet, and the second option was that you could take a photo of you with your pet in real life. 
Not a complicated competition. However, we had just TWO entries, and one of those people was happy to give up his prize. Our congratulations go to Gwaerhyd for winning a Crown of Krampus!
It is my firm belief that celebrations require cake. It cannot be a celebration without cake.. or well any baked goods really. Therefore our competition was for our members to bake a SWL themed delicious yummy treat - and post the photo of it in our forum. This time we had again just two entries, but they were both incredibly delicious looking and you can see the proof of that by following the link.
Congratulations to Gwaerhyd for coming in first place in the vote and winning Sprint: Gatekeeper's Touch. CarbonArc came second, but chose to re-gift his 50k Marks of Favour to Chepi! 
MEGAversary 
Thank you for all the fun!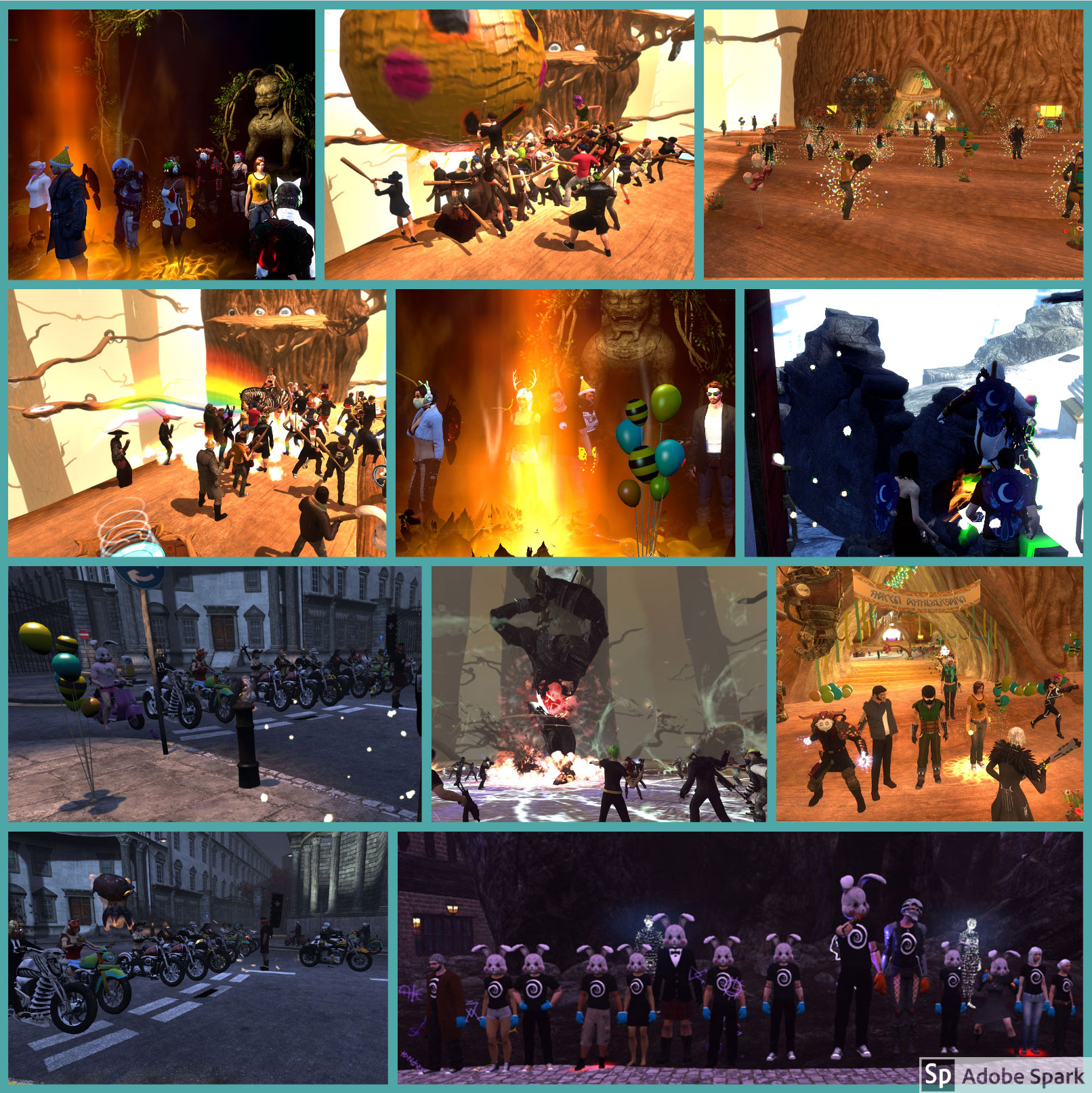 Balancing Incoming
If you have no idea what I am talking about, the fact is, changes are incoming. It is time to inform yourself! 
The balance pass will for the most part be affecting Tanks and Healers ... though any content you are therefore going to run with Tanks and Healers will in turn be impacted. In the first instance because whoever is in those roles will need to learn how to adapt their builds and how new things with skills, weapons and talismans work. Secondly, our teams will generally have 1 less DPS when the content requires a healer in the team instead. Mechanics that we overpowered until now, will need to be learnt, understood and managed! Sounds good so far, huh!
This last weekend, the first open beta testing took place, and there is a LOT of feedback to read in the official SWL forums. 
Please keep in mind when you are reading the feedback and preliminary notes that things are still being tested, changed and are not live yet. However, you can get stuck into the literature here:
Your next issue of The Sword's Edge...
Your next issue of The Sword's Edge will be released in the Autumn. See you then!