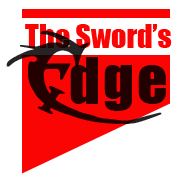 The Sword's Edge
Issue 49: 9th October 2020 - Forged in fire, tempered through wisdom, sharpened by resolve.
It is THE most exciting time of the year - and not only because the balance patch hit, but halloween is incoming. Forget all about bobbing for apples and finding the perfect cat shaped cookie cutter... we have SO MUCH happening this month, you haven't got time for all that.
First up, already ongoing is our Five Feats for Samhain. You are all challenged to fulfill the feats Swords to make sure you get your shiny awards (gorgeously created by HolloPoint) into your Website Profiles - as well as getting your name into the prize draw.. to win whatever we find as prizes by the end of the month *winks*
Next up - tomorrow is the Halloween Masquerade 2020 with us (Nine Swords) and Happy Tentacle Radio. You will find all the information you need in the next section down in the newsletter.
As we hit the middle of the month, you will see us all getting exciting about potentially making 1 cabal bank slot free. To do this, Nine Swords are teaming up with our friends in League of Monster Slayers to do a Monster Bash on the 17th October! Again, more information further down in this newsletter.
If you think all of that is not enough, we have already also spotted other community run events going on over October and have added those with dates and times to our Events calendar. Hoping that we also get some tricks and treats from Funcom too! 
We may need to put our feet up in November to recharge the batteries for the Christmas and New Year period. 
Hope you enjoy the newsletter. See you all in game, 
~ Katelin
Masquerade is TOMORROW!
Our Halloween Masquerade returns for the third year! The title this year is 'Hall of the Madness Queen' and it's a dance party social event with a faerie court leitmotif. Come in a favorite mask or costume to hobnob and dance! DJ Drina of Happy Tentacle Radio is joining us once again to provide the music. It's taking place Saturday the 10th of October at 1800 GMT in, as always, the Albion Theatre in London.
The music will stream at mixlr.com/happy_tentacle_radio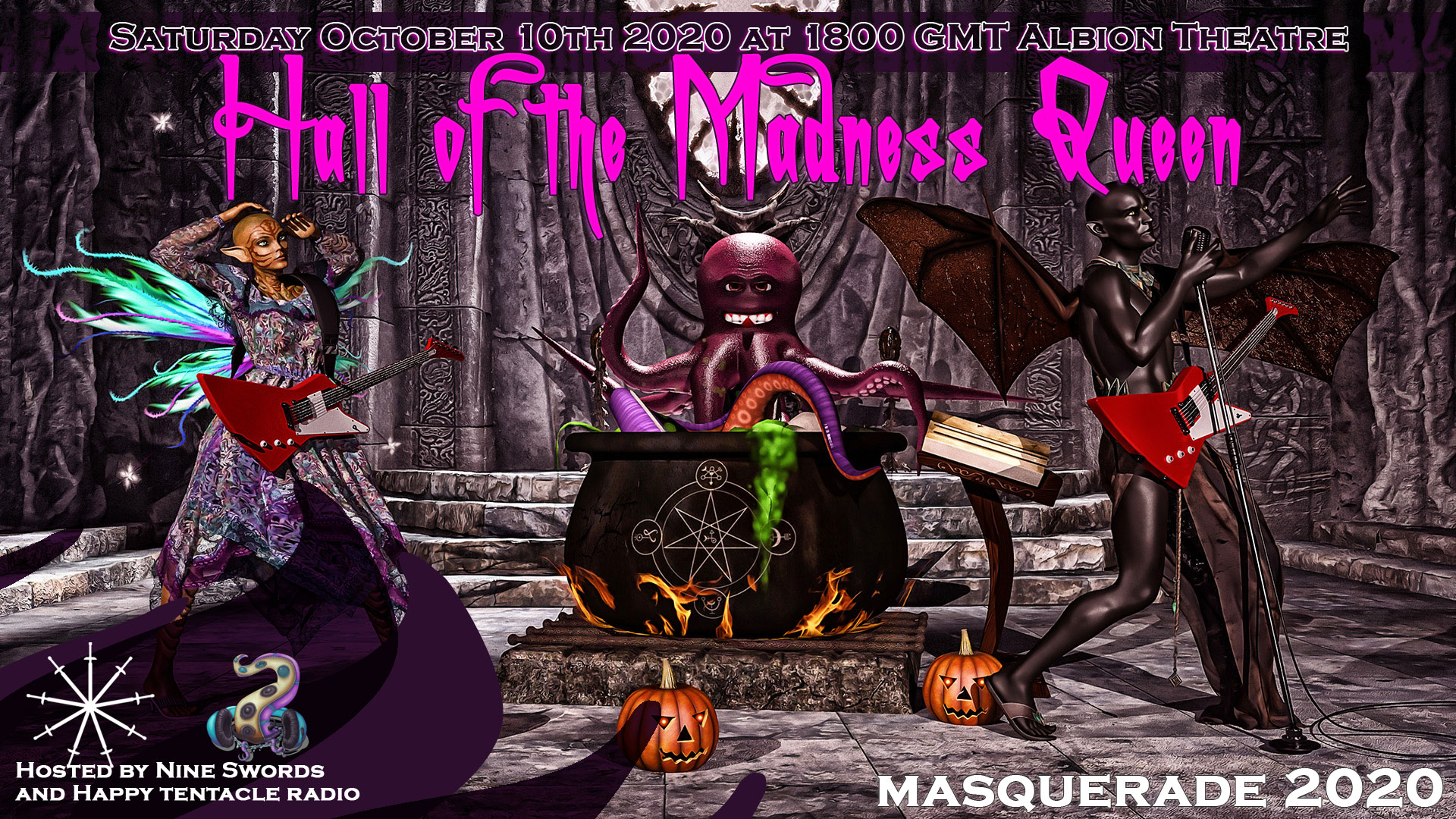 Five Feats for Samhain
Did you already post your entries for Feat one and two, Swords? If not, you still have time! Running from now until the end of October is a new event for Nine Swords called "Five Feats for Samhain". Over the course of the coming weeks, I will set you Five "Feats" to complete to achieve up to 5 "Five Feats for Samhain" 9S Awards.

On completing all 5 by the 1st of November - those members will not only get their Awards in their forum Profiles, but be entered into a draw to win 1st, 2nd and 3rd Prize.
In the Noticeboard, the post for the event will eventually include the following 5 feats:
1. Show your accomplishments!
2. Show your courage
3. Ready for a feat of considerable engineering?
4. Show us your strength
5. Show your skill
The next one comes tomorrow in time for the Masquerade, so make sure you are prepared. If you cannot come along to the Masquerade, a follow up event will be posted to ensure anyone that does want to take part in that one, gets a chance! 
Can you achieve all five feats by the end of the month? Head over to this post to get involved: https://www.nine-swords.com/forums/18/13061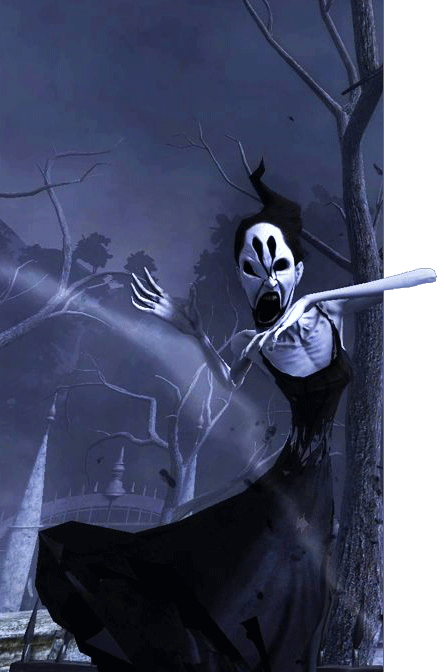 9S and LoMS Monster Bash
Swords, you likely read already that we are teaming up with our friends in League of Monster Slayers for a Halloween Monster Bash! If you didn't - good job you are reading this newsletter so you can get caught up in what we are going to be doing!
On Saturday the 17th October, Come one, come all.. but in your Halloween Costumes! Nine Swords and League of Monster Slayers are teaming up for a Halloween Monster Bash! AND YOU ARE INVITED!!
Our fearless tanks will be kept alive by our button smashing healers and will pass the baton over the period of this event and ensure lots of World Bosses are taken down so that distillates and signets are yours for the taking! Head over to the post in our Noticeboard forum for an overview of which time slots we have. If you are a tank that is happy to tank World Bosses, or a healer - you can help us get additional time slots added! As DPS feel free to sign up to join whichever summoning teams you can. 
See you all there for a LOT of distillates! 
All the changes!
Since the Dungeon and Raids Update was released on September 29th - we have certainly been having fun. It is like learning something new.. but we already have a bit of an idea. Some things work as expected, but some things have done new and different things and we are having to adjust builds and figure out how to adapt. 
Enthusiasm for figuring things out has been fantasic in the cabal. Everyone that worked away at the NY Raid E10 and cracked it in such a short time frame.. and then continued to keep pulling teams through and most people getting their clears last week and again this week is something to be proud of! Everyone that has been switching their builds around to ensure we have had mostly smooth (some slightly longer than others) dungeon runs, lairs have been perfect and our Regional teams with great turn out and success (even if I am sure it was only Kucu getting all the agents this last couple of weeks hehe).
We still have lots of learning ahead - Rifla has been collecting the changes for NY Raid and the Penthouse dungeon over in our Guides forum. You will also continue to find group efforts ongoing to collect the loot data for Faction Missions and Scenarios. Dungeon beasts in our Bestiary also need a concerted effort.. but steadily over time we will have our resources all up to date again!
If you are struggling with how to adapt your build - use our builds forum. If you are stuck with a dungeon mechanic - ask! If you want to help answer questions or contribute to our knowledge base, speak up and get involved. Thank you all for your dedication and team work!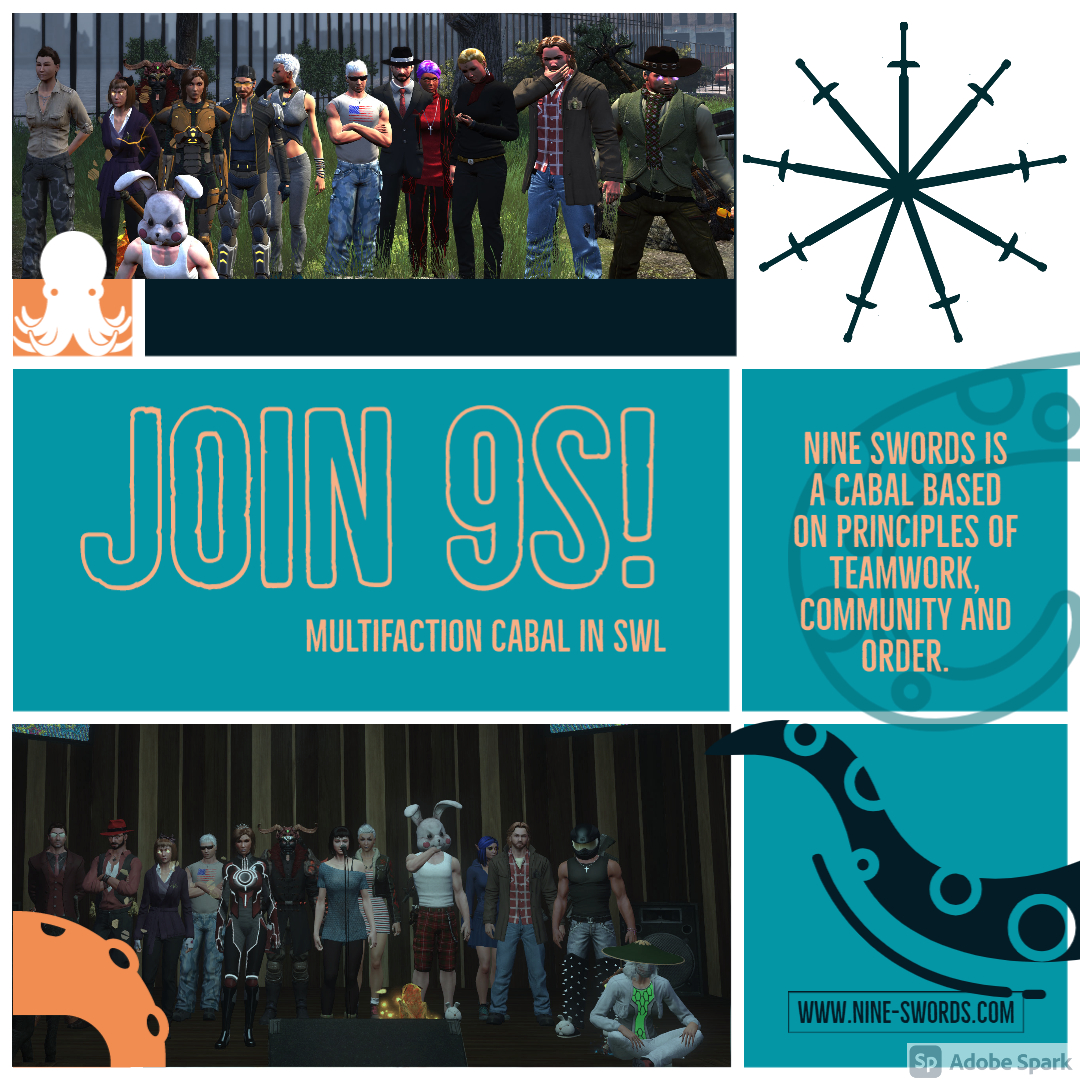 Issue 50 of The Sword's Edge...
WOW 50 Issues! Issue 50 of our newsletter will be released on the 9th December 2020 - see you then!