The Sword's Edge
Issue 56: 9th September 2021 - Forged in fire, tempered through wisdom, sharpened by resolve
Welcome to this latest issue of The Sword's Edge! Once again, as is usual with September we are seeing our members gradually all returning to work and school following the vacations. We hope you all had some well deserved relaxation time and could take a step back from the ongoing stresses and circumstances so many of us are continuing to face in our real lives. 
Activity in game has been great, we have had a lot of fun playing and teaming together. Thank you to everyone who has been contributing to helping keep our cabal fun and active in-game, and of course to everyone who has contributed to this months issue of our newsletter!
~ Katelin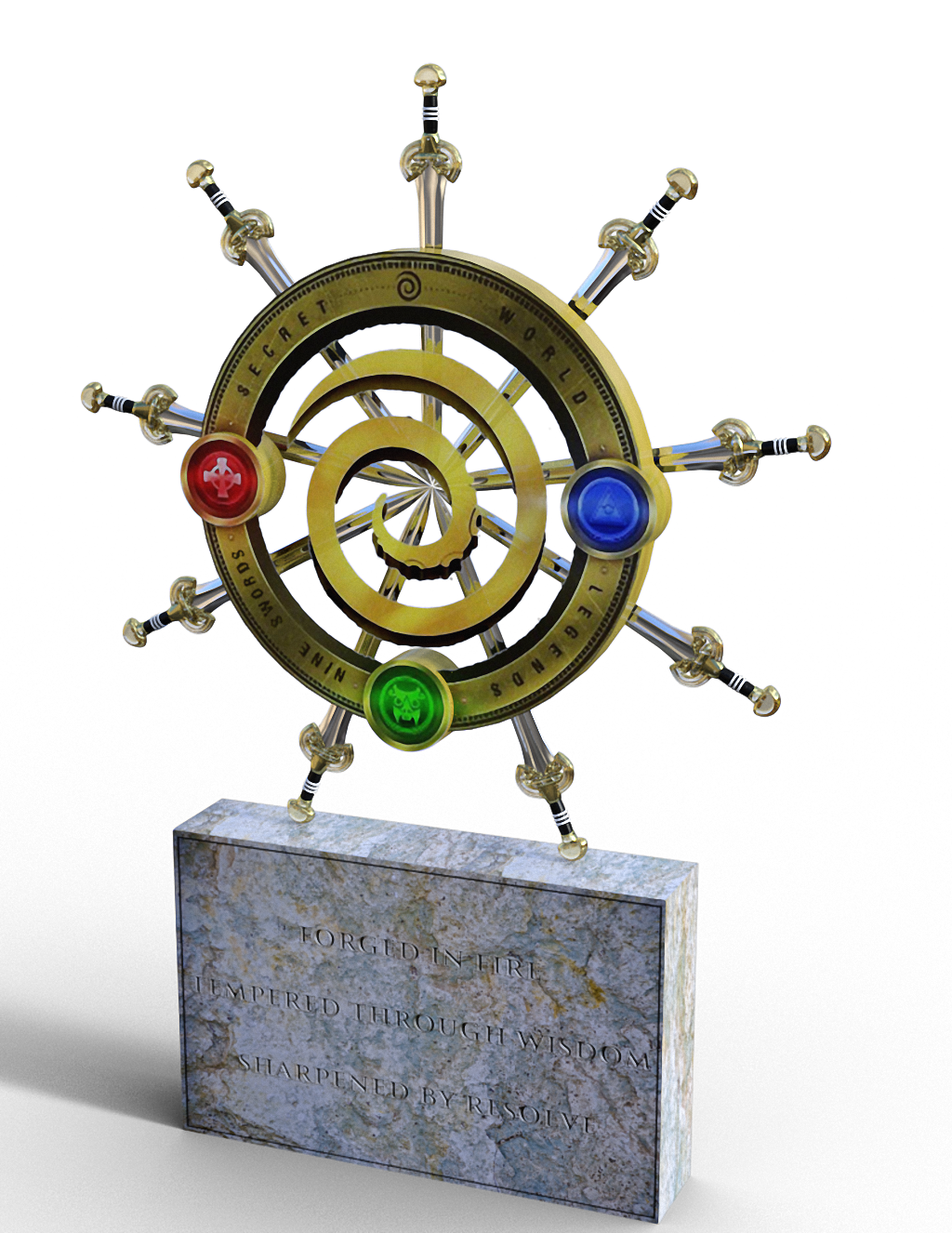 Artwork by Shjakilil
Nine Swords is Recruiting
Are you looking for a new cabal? Hoping to find people who are fun, like to chat and enjoy teaming together? Then Nine Swords* could be the cabal for you. 
Forged in fire, tempered through wisdom, sharpened by resolve!
Founded in 2012 for the original TSW, Nine Swords has stood the test of time. In SWL we maintain our reputation as a community driven cabal.
We are looking for kind and spirited members with any level of progress through the main story or endgame challenges.
Cabal members are encouraged to take advantage of the event calendar on our website for scheduling a variety of in-game activities. Our current spread of events is primarily PvE but we always welcome organized RP and PvP activities.
Register on the website, log in and then use the link at the top of the website to "Join Nine Swords". We look forward to receiving your application. 
*Possessing a sword is not required for membership.
Gear Workshops
Sometimes the smallest change can make the biggest difference. We see it a lot, especially when we are teaming together in the raids. When we notice something when we are teaming together that can help someone overcome a struggle they are having most members are happy to receive suggestions - however, often the time to make these changes should not be in the middle of a planned activity together. Which is why we want to remind you all that we offer Gear Workshops for anyone in the cabal that wants to improve their build(s). 
The fact is, making changes to your builds can be the difference between Dark Agartha feeling like an impossible nightmare.. to it being a manageable nightmare instead. Perhaps you are struggling to survive in higher waves of Occult Defence... or maybe you are glancing.  Maybe you want to know how you can be more useful in the raid.
New York Raid is a good example of where all of us are working together to defeat the lurker - for sure all of us staying alive and knowing the mechanics helps... but there are other things we can consider too. For example, when we have a lower DPS team members who can relieve higher DPS team members from having to slot a Clean Up or Opening Shot, that it can make the difference between having two or three pods in Phase 1 of NY Raid E10. Similarly, when our healer or filth placer can take on more utilities too - ensures that our DPS can concentrate on their pick ups and pew-pewing to their maximum.
I asked Rifla why he wants to continue to offer these workshops, and what it means to him:
I would love it if you join our New York raids to ask us if you can help us do better every week.

A New York raid needs a certain level of DPS to clear so we can get loot every week. It can be brutal and it can pivot from victory to failure very quick.
We hope to arm our cabal members with knowledge to join any raid from any cabal and still be helpful and valuable. No matter what gear you have we would love to do the best with what you have and to the best of your abilities.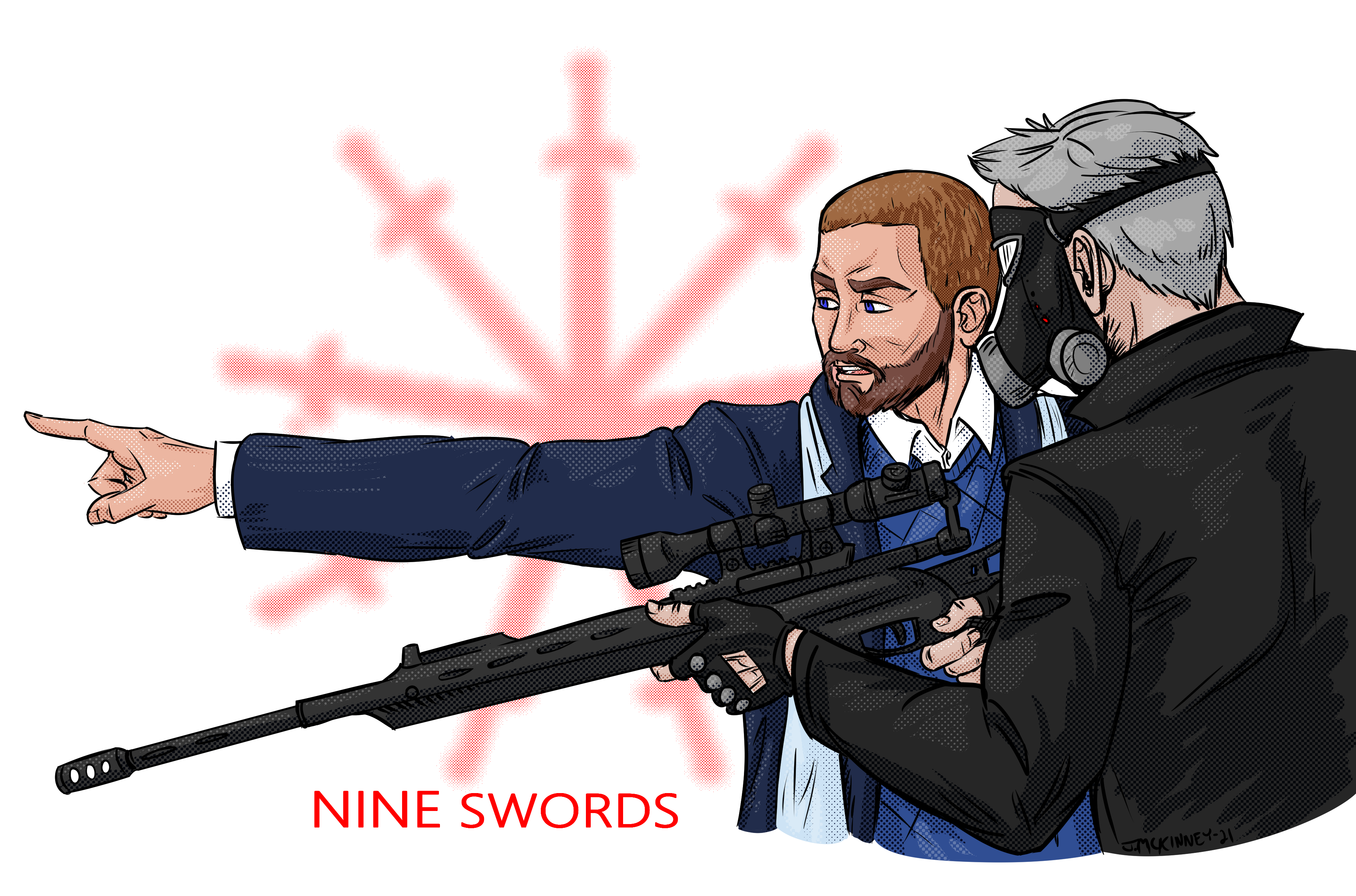 Artwork by Razorgrin

Be able to join Discord; listen to and understand what any raid raid caller says on discord.
Make a build that is optimal for the job you want to do as tank, healer or dps.
Make sure you have the correct actives and passives that makes you do a little bit more dps, tank better or heal easier. Make sure you use correct glyphs!
Ask us for advice please, because we are not forcing you.

We need to work with what we have and what people are comfortable with but im a firm believer we can make it easier for ourselves with small changes. Would like to see us clear raid every week so start as soon as possible preparing for next round of lurker Sushi!
So there you have it. If you are interested in getting some guidance and suggestions for your build - remember you have work to put in before and after. You will need to list all your available talismans and weapons in order for us to see what you have to work with, as well as be prepared to invest time into levelling new things to help make your build even better!
The Curious Traveller Visits… Kingsmouth
By Waspstar

I did not sign up for this, dear reader. What I had in mind when I took the job was Barbados, the Seychelles, or at a push, Paris. All expenses paid. But no.
'Soloman Island,' snapped my commissioning editor. 'Kingsmouth, to be exact.'
I shuddered. 'But the news—'
'Yes, hordes of zombies, broodwitches, and worse.' She shrugged. 'Find the nice parts of town. That's your job.'
I considered resigning on the spot. But I didn't. Because, you see, I have a personal connection to Kingsmouth, and a personal reason for wanting to return, no matter the danger. I chartered a flight and arrived at Kingsmouth Airport at a little after two the following afternoon. My report follows.

Day One

Adventurous travellers will appreciate at once the usual atmospheric conditions Solomon Island offers. Although a local reporter termed it 'an unbearable sense of eldritch doom', this is tabloid hyperbole. I found myself only mildly distressed.

Kingsmouth Airport itself is lively and bustling. Friendly workers at the nearby warehouses flocked to greet me. Because my schedule was tight, and for no other reason, I clambered on a nearby shipping container and leapt the fence. From there, I enjoyed an invigorating sprint along the beach to the guesthouse where I'd booked an en suite room for the night.

Jack and Wendy's Bed & Breakfast is a haven of peace and quiet; you'll have the place to yourself. The several sacks of kitty litter at the step, and the suicide note pinned to the door, lend the establishment homey ambience and local colour. My room afforded a charming view of the nearby lighthouse and, once again, I was struck by the locals' friendliness as they congregated below my window.

With daylight waning, I decided to waste no time resting. I climbed out of the kitchen window and took a short walk over the dunes to the fire station. Several officers greeted me in their guttural dialect. The Fire Chief himself was eager to take time from his busy schedule to offer me close inspection of a prized fire axe that is plainly something of a collector's item; visitors may purchase replicas at little cost at the auction house.
While the fire station is a notable Kingsmouth landmark, my advice to first-time visitors is that the site is best appreciated from great distance. Exhausted and bleeding, but in no way fatally injured, I staggered back to the comfort of the guest house for the night.

Day Two

An early morning jog along the high street is one of the delights Kingsmouth offers visitors. The comfort of knowing that you're within the range of protection of the deputy's rifle provides a sense of security rarely found these days. Deputy Andy quickly dispatched a dozen excessively eager locals who had threatened to overwhelm me with good wishes.

I paused at a café. Although it was closed that morning, the owners had thoughtfully left several cartons of orange juice outside. This made for a refreshing treat and, I was advised by a gentleman named Moose, is a handy ingredient for makeshift flamethrowers.

A new and intriguing feature since my last visit to Kingsmouth is a conceptual art installation: an arrangement of abandoned vehicles along the road into town. The artist's intention is clearly a comment on the downfall of a consumerist society hurtling towards an inevitable dystopian future. But in a playful touch, visitors are encouraged to leap onto the vehicles and trigger their alarms.

And…

***

…And there, dear reader, my report ends. Midsentence. Because when I reached that stretch of road, when I saw those abandoned vehicles, I no longer had the strength to pretend. The truth is Kingsmouth offers nothing but despair, or if you once spent happier times here, unbearable loss. Kingsmouth, the world around it, has no future, it seems.

I reached my special place, that huge stump of an upturned tree, where once, many years ago, I'd stepped through a portal. Fresher faced back then, innocent, an adventurer. A lot of shit has happened since then, hasn't it? It's enough to make you give in. But sometimes I believe that if enough of us could find each again, band together, there might yet be hope.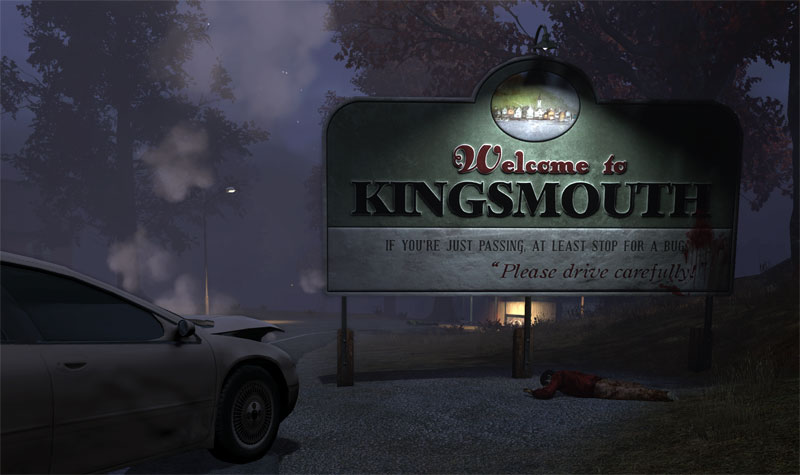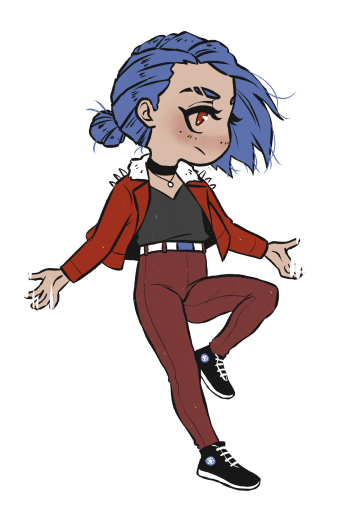 Artwork by Jess
Achievement Hunting
We have had some very busy bees in the cabal working on their achievements over the last few weeks. We have members looking for items for their museums, hunting monsters, collecting legends and everything else you can think of. 
The problem with some achievement hunting is knowing where to start. Some can feel like too much of a headache to even contemplate .. perhaps in those cases you should just wait a while and come back to it when you have played through the storyline and already got underway with scenarios and lairs.  Many achievements will complete just by you doing these things, so the overall amount you have to do will then not be so overwhelming! 
If you are ready to get stuck in, there are some really great resources available
Monster Hunting
Look no further than our
Nine Swords Bestiary
, lots of monster hunting locations have been entered into our Bestiary and will help you know where you can go. You can also help yourself by installing
Valyrie's Infarmer
, this mod has a panel in game so you can see your current kill counters and is much easier for tracking targets than repeatedly opening the achievement window. 
Museum of the Occult
The guide over at tswdb is one of the most used resources in the cabal, and is often getting linked when people ask about which items are used for what in the museum. If you have not checked it out yet, now is the time!
What about all the other achievements....
We have also been busy in the cabal working further on our knowledge base. The knowledge base is located within the Nine Swords library. It catalogues information collected by our own cabal members gained within Secret World: Legends. It is looked after by our Pen Division, and is available to be contributed to by all our members as a collaborative effort.
And remember, if you see we are missing something - you are very welcome to get involved and help us with research! Just get in touch with Xaoti! 
What's in a Name
This month, Cassar tells us the meaning behind his name...
Volsturan 'Cassar' Vanndire
What is in a name? Well mostly stolen and recycled references in my case. I usually had a character name of Kasyr in games but elected for something different (read: I just changed a few letters for no reason). Kasyr->Kassyr->Kassar->Cassar.
Sometimes I do wish the other parts of your character name were more prominent as while I couldn't get it as the 'nickname' I did sneak in the most obviously evil name of all time Vanndire into the surname.Volsturan and Vanndire are both shamelessly stolen from the Warhammer 40k franchise (Vostroyan->Volsturan, a regiment and Vandire->Vanndire, a comically evil man) and changed slightly.No ideas for a good screenshot though, so just imagine one was here.
Sharpening the Blades 
I am so grateful to see Sharpening the Blades back on our calendar!! Further to its relaunch in July, Razorgrin has started as planned and has also made sure to plan in two Sharpening the Blades every month so you all know when you can come along.
The event still is being used as a check in with our members, but we have also been using it this last month to brainstorm new ideas (especially from our new members) which has been a lot of fun too. I really hope that we can work together to help those ideas turn into new events for the cabal. 
With the main goal behind Sharpening the Blades to get a feel for what is going on and to get feedback from you all - if you have any topic at all about Nine Swords, you can bring it safely to the event and chat about it with everyone that has come along. 
If you are in game at the time that Sharpening the Blades is happening, but forgot the time or got caught up doing something else - don't worry, you can join while on the move via the chat channel that Razorgrin sets up at the start of each event. 

Sharpening the Blades, 8th September 2021
Issue 57 of The Sword's Edge...
Issue 57 of our newsletter will be released on the 9th November 2021 - see you then!