Home
Details

Written by

Elizabeth Katelin Hunt

Hits: 1003
If you are a new recruit to Nine Swords - you may have read in our directives about Sharpening the Blades. Sharpening the Blades is a monthly event that is primarily for any new members to our cabal to attend and chat about how things are going so far as well as to ask any questions about Nine Swords.
The event is usually held at the end of the month. As the end of this month is full of Christmas and New Year celebrations for many of our members - we have decided to not schedule a Sharpening the Blades session. However - if you are new to Nine Swords and you would like a chat about how things are going for you, we are happy to organise one to one sessions. You are welcome to simply send a PM to Katelin via our forums, and a date and time can be organised.  If you are new and are happy to wait for the next session, please keep an eye on our Events Calendar and the sign up in our Forums. It is planned that the next session will be held at the end of January.
---
Details

Written by

Elizabeth Katelin Hunt

Hits: 947
Swords - more of you have been asking about how it is best to go about scheduling events on our website and forums. Therefore, to help you with how to use our Events Calendar and Noticeboard forum area, I have written a new internal directive. You can find it here: Event scheduling
If after reading it you have any questions - please get in touch with me or Durendal. We are happy to help you!
---
Details

Written by

9S Leadership team

Hits: 1415
The Secret World Legends winter event is here! It launched on the 12th December, and will run through to the 2nd January 2018.  Make sure to log in to claim your new daily event rewards, including a free pet Figuros Padurii! Get in on the fun with Snowball Fight minigames with your friends, earn achievements and visit the Krampusnacht: Hel Portal in Agartha each hour to redeem your Malevolent Snowflake and get your hands on mission reward loot bags!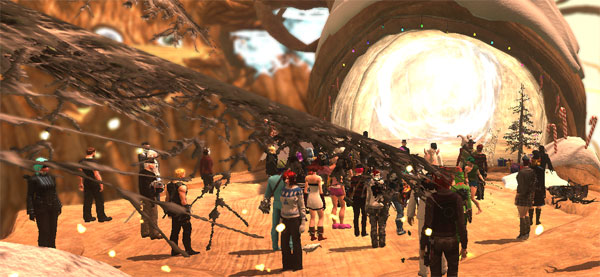 Check out the threads in our forums for lore locations, and event information or contribute to the thread to share your knowledge!
---
Details

Written by

Elizabeth Katelin Hunt

Hits: 1185
In just under an hour we kick off career week in Nine Swords - if you have no idea what I am talking about .. (then you should have already read our newsletter on the 9th November!! ) .. 
A series of mini events will be scheduled over the coming week from the 13th November to the 19th November. All members of Nine Swords are welcome to attend. If you are interested in this event, keep an eye out on our Events calendar and our Noticeboard Forums.
The goal of the event is to help our divisions. Many of the divisions in Nine Swords need more division members within them to work towards maintaining a fun environment for our whole cabal via events and new ideas. We have lots of tasks that could use your help, and many that even with a small contribution of time would make a positive impact to the cabal.

It is important to us that all our members to feel like they are part of the cabal and not just a forgotten recruited member. Everyone has the opportunity to do something if they want to.
---
Details

Written by

Elizabeth Katelin Hunt

Hits: 1262
A thank you and a massive congratulations are the orders of the day! 
It is wonderful when our cabal mates enjoy each others company, great when that spills into our real lives and we meet up in our real life settings. It is even more fantastic though to receive the news that Floryn and Antanahe have FINALLY decided to move countries to be together!  When such amazing news comes along, it can be very hard to be anything but happy! 
With the big changes though, also comes the decision from Floryn to step down as a leader of Nine Swords.  Please all join me in thanking Floryn for his massive input to our cabal. Floryn has been involved in some pivotal idea development, especially the start of our Sharpening the Blades sessions and of course for lots and lots of RP. It is impossible to write about everything he has done!! I thank you with all my heart, Floryn! 
---